The market is very competitive and every day we see companies launching new products in the market. If you or your company has a product that maybe your specialty or your company's main brand that is linked to your company then you must know how important is for you to have a product profile sample. Having a strong product showcase profile will help your company to connect with diverse customers. Businesses that have product profile sample have a far better balance of projects and resources, both in the short term and long term, all of which successfully mirror the business strategy. So let's discuss how to make a strong product profile for your new business step by step with examples and attached PDF/ PSD files.
Add a Relevant Introduction of your Product 
The essential and initial thing about any product is to explain how it can help in solving an existing problem in a society or community. The first section will explain the product and how it can benefit your business. You'll also write about your company's vision and why did you make this product. Your product introductory section should also include the detail of the company which launched the product. Convey your product potentiality in a way that will clarify why the market needs it and how it can help your business to grow.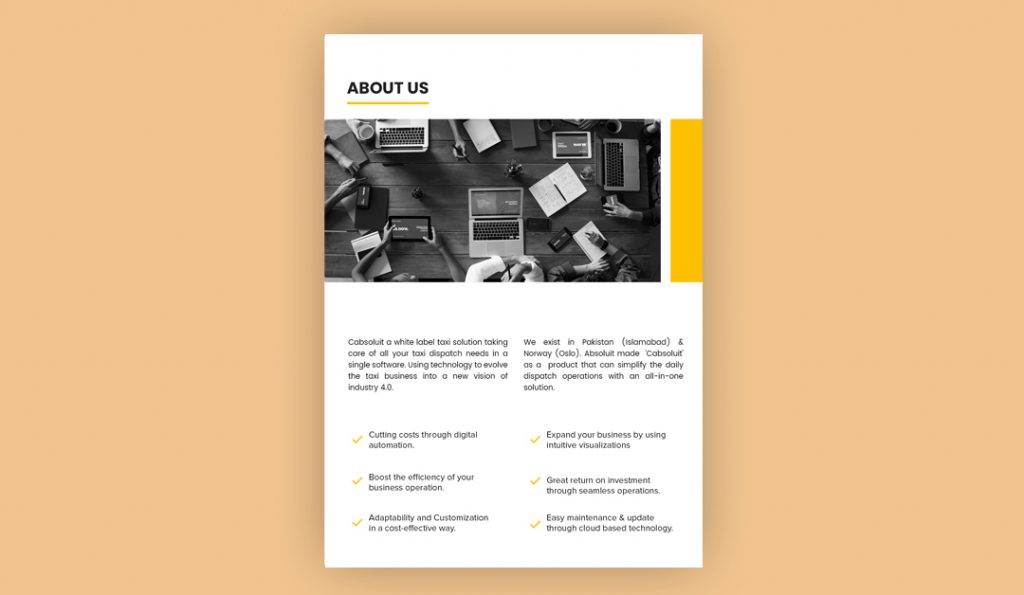 List Down your Product Possibilities.
Now you'll brief how your product can help your clients and how your product fits into the market. What should the be reasons for the customers that they can count on your product? For example, if you have dispatching software then you'll explain how you can use this product in different models like delivery services, patient transport, etc. Mention every single detail and make it look attractive by adding about your core areas of expertise.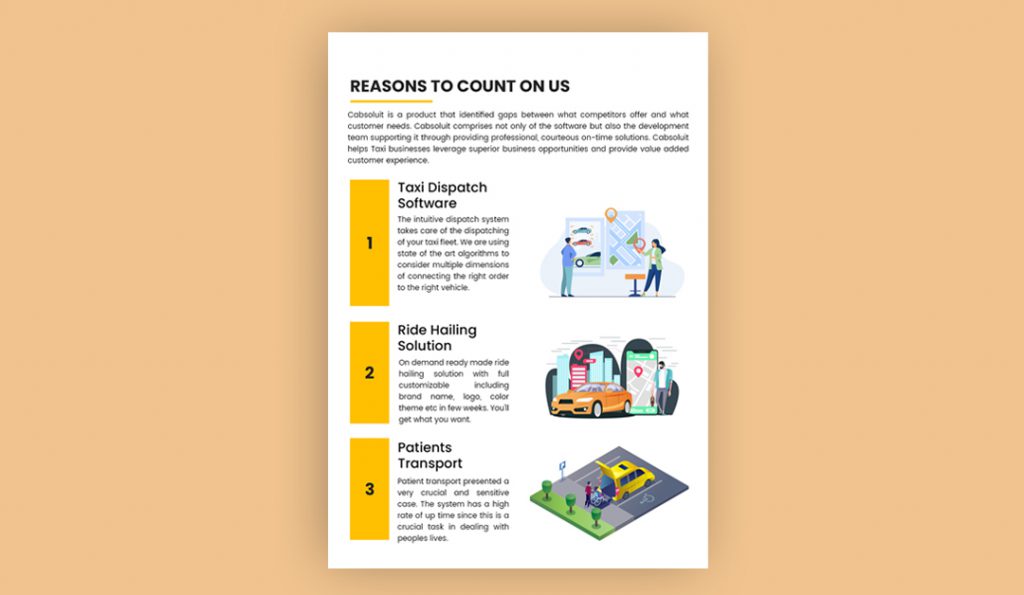 Mention Engaging Features of your Product
 After that, you've explained your product potentiality and their need in the market you've your client's trust and full confidence in getting the product. Now it's time for you to display your product's features separately with compelling headings and details. Add attractive images of your product with clear descriptions that how this product work and all. This is the most impactful section of your product profile sample so make it worthy and make it looks interesting by adding a logo and colorful details.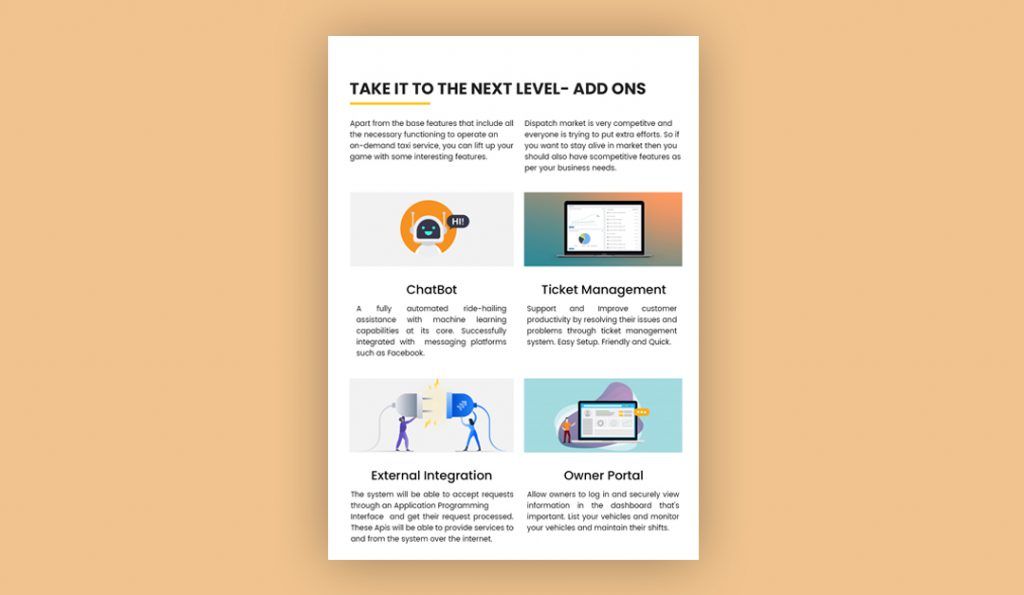 How to contact us
The last and final step is 'called to action' or 'Contact us' and that is for clients, corporate, and for everyone who wants to know your availability or wants to work with your company they want your product. Write a catchy title with a description. You have to write your office location, your opening and closing time, your contact number, email address. Add your social sites and website link in the product profile sample or profile.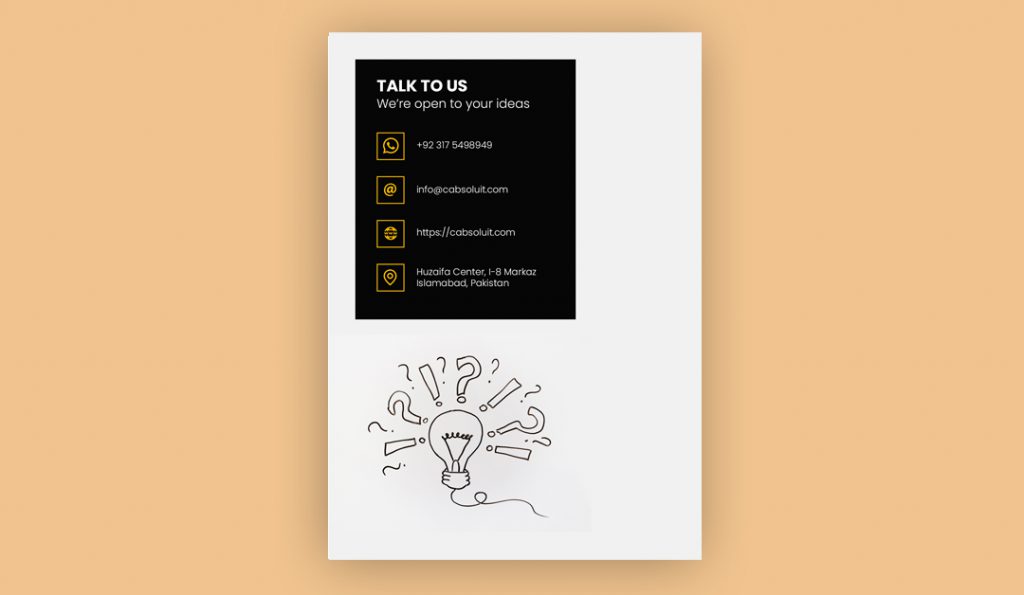 If you want us to design a custom product profile template for you you can contact us directly and get your trendy yet unique profile asap. Get your product profile template PSD file Get your product profile template PDF file
Check out our Product ' Cabsoluit – On-Demand Mobility Solution ' profile. 
 Want to know how to make a company a profile for your new business? Download the free PSD/PDF files for the company profile sample from the link down below https://absoluit.com/how-to-make-a-company-profile/