Harvey Mackay who was a very successful US business entrepreneur once said
"You only get one chance to make a good first impression, and yours may be in the hands of the receptionist."
When you want to work with a company or you want to present your company or organization professionally you must have a profile or portfolio which will showcase your work and your strength. Having a creative and well-crafted company profile with little details like how you grew, what products, services you offer, and what's your current position in the market will not only make you stand out from the competition but it will also show how competent you're.
A desirable company profile template for a client tells a lot about the business and we have made it easy for you. If you don't want to start it from the scratch you can download our company profile sample for free. Please find the attached PSD file link at the end of the blog
Let's also discuss how to make a company profile for a new business step by step with examples.
Add Compelling Company Introduction
The essential and initial thing about any company is to explain their vision and brief a little intro about their employees in their profile. Your mission statement should convey your company's passion in a way that can attract clients or the public. In the first step, you'll write about the vision statement of your company and then you'll write about the number of people working in it and what's their work nature. How do they all work as a team and how your company moves forward as a team. Here's an example for you that will tell you how to make company profile sample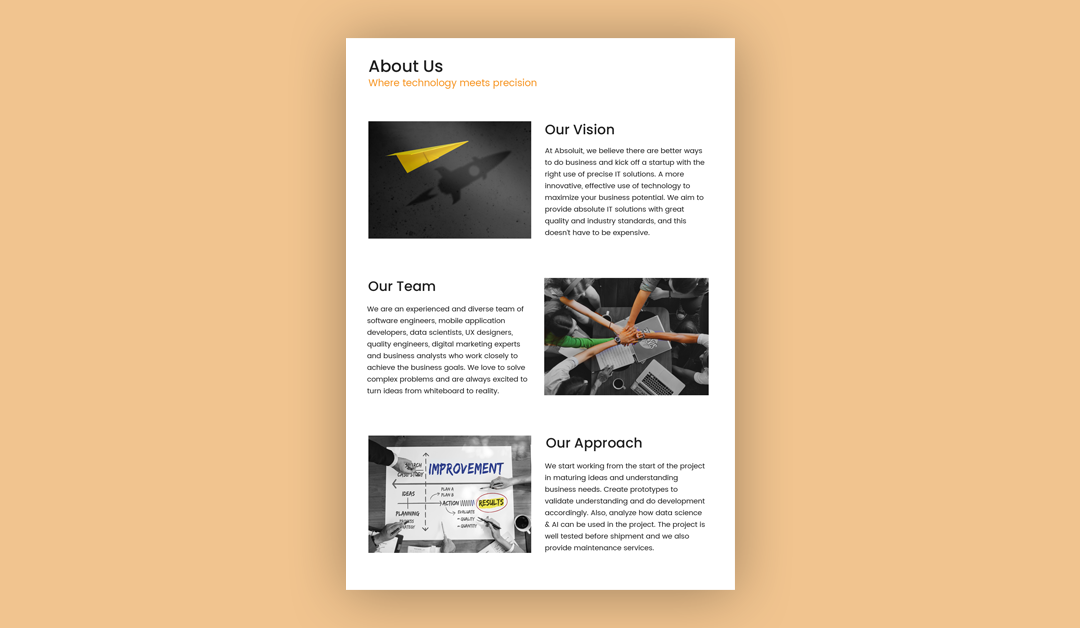 List your Services & Products in your company profile template
After you make sure that your client got all the basic information about your company's background and work nature, it will be easy for him to trust you as a company that he can work with. So after that, you can tell your client about your services and what are your core areas of expertise. Mention every single detail about your services and make it look attractive. Let us show you how to do that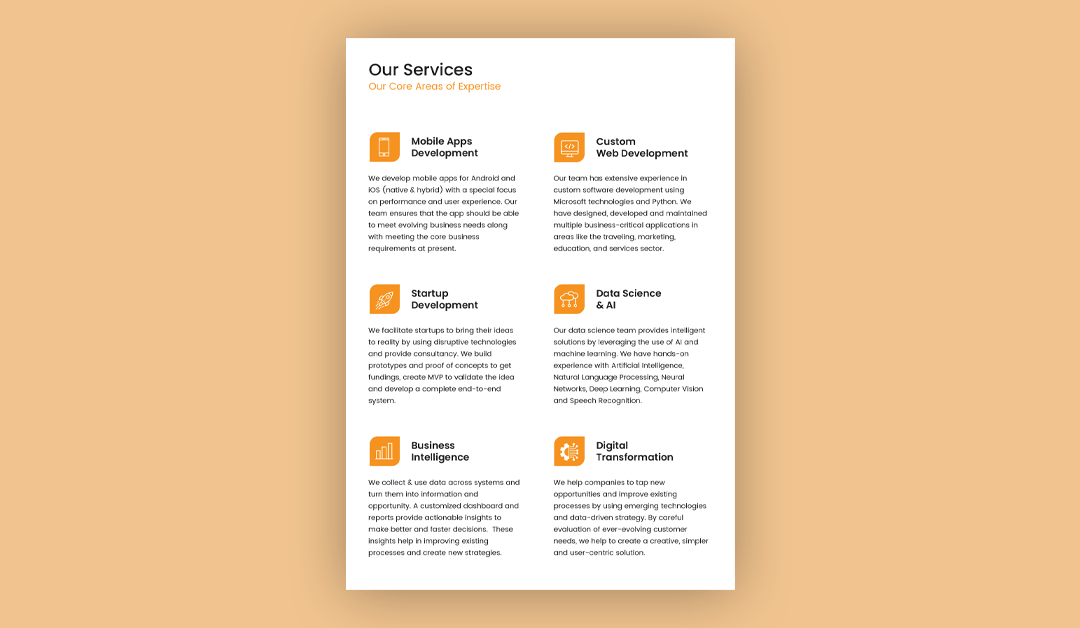 Display your Projects
The most impactful part of your profile is your portfolio section where you display all your projects and work done. It reflects your accomplishments, skills, experiences, and shows how capable you're. If you've one main product or brand that defines your company then you should definitely make a separate product profile template. Sometimes some companies mention their every project and that makes their profile lengthy and boring so it's good that you only mention your important projects and add links to your remaining projects. You have to write about every project separately and make it look interesting by adding images, logos of that project.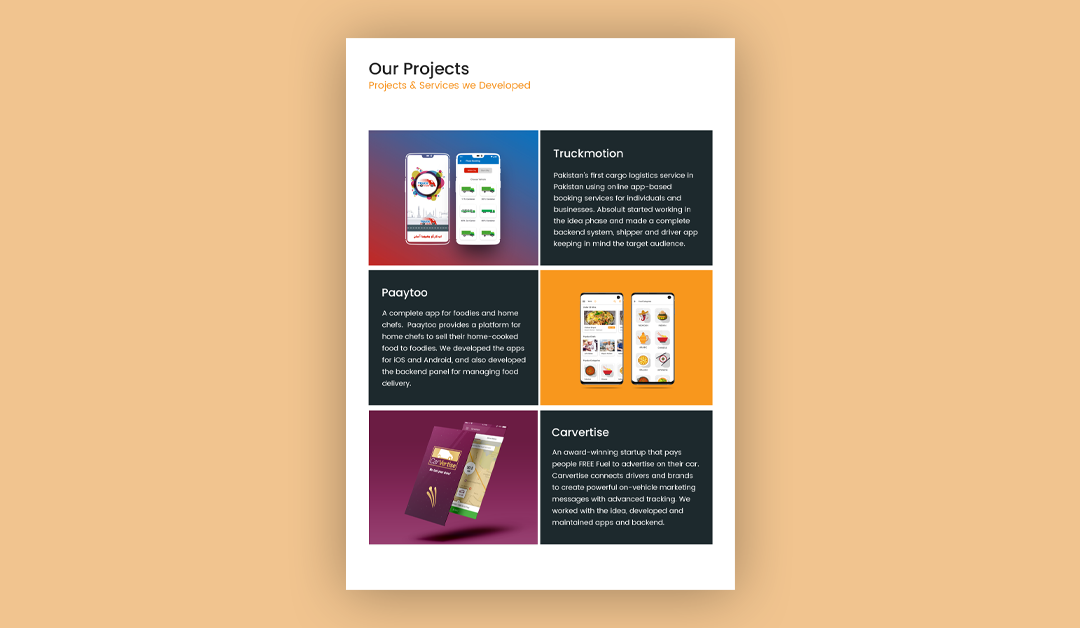 How to contact us
The last and final step is 'called to action' or 'Contact us' and that is for clients, corporate, and for everyone who wants to know your availability or wants to work with your company or organization. Write a catchy title with a description. You have to write your office location, your opening and closing time, your contact number, email address. Add your social sites and website link in your portfolio.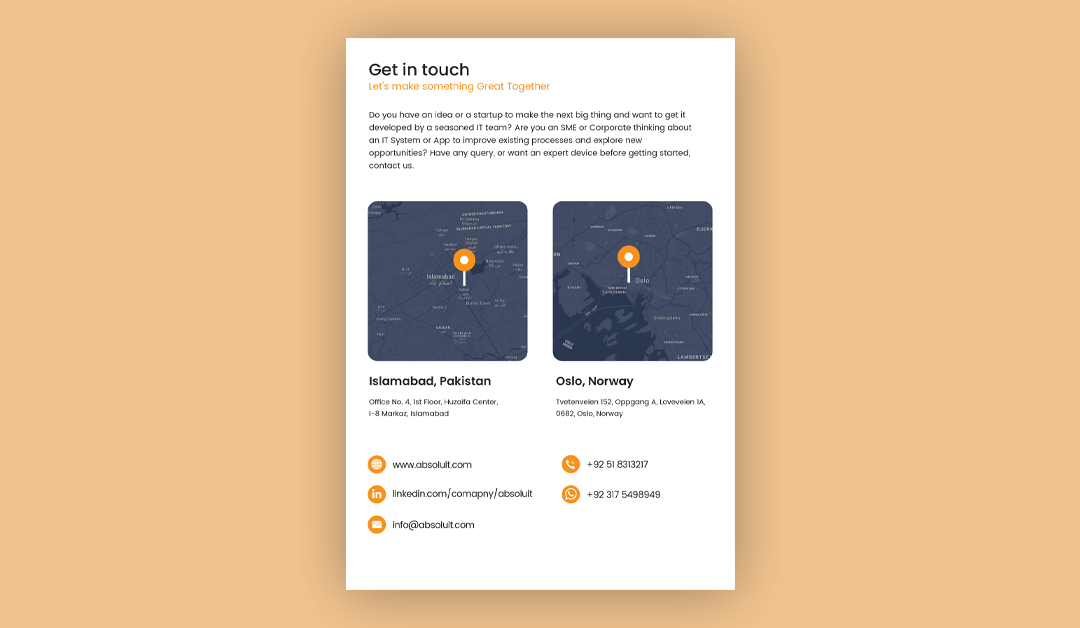 Download the software company profile template PSD file
Download the company profile pdf
If you want us to design a custom company profile template for you or you want to know how to make company a profile pdf /psd for your new business, you can contact us by clicking on the link below.
https://absoluit.com/contact-us/
Read our last blog
How to make a Product Profile